Congratulations to The Lion pub in Newbury which has been awarded West Berkshire CAMRA 'Pub of The Year 2022'.
Father and son team (Kevin and Sam) took over the pub in October 2019 following a refurbishment. Up to eight cask ales, including a range of guest ales and one cask cider are available. A range of Tex-Mex food is served. The pub shows live sport on TV, and hosts a Thursday quiz night and occasional live music.
In the eighties, The Lion was the only Free House in Newbury and the CAMRA branch's unofficial HQ. It was almost replaced with offices, but for a campaign by CAMRA which saw the pub rebuilt by Wadworth in 1988. Pictures of the original pub can be seen at https://pubwiki.co.uk/Berkshire/Newbury/Lion.shtml
Photos from the awards night at the Lion, Newbury on Tuesday 12 April 2022: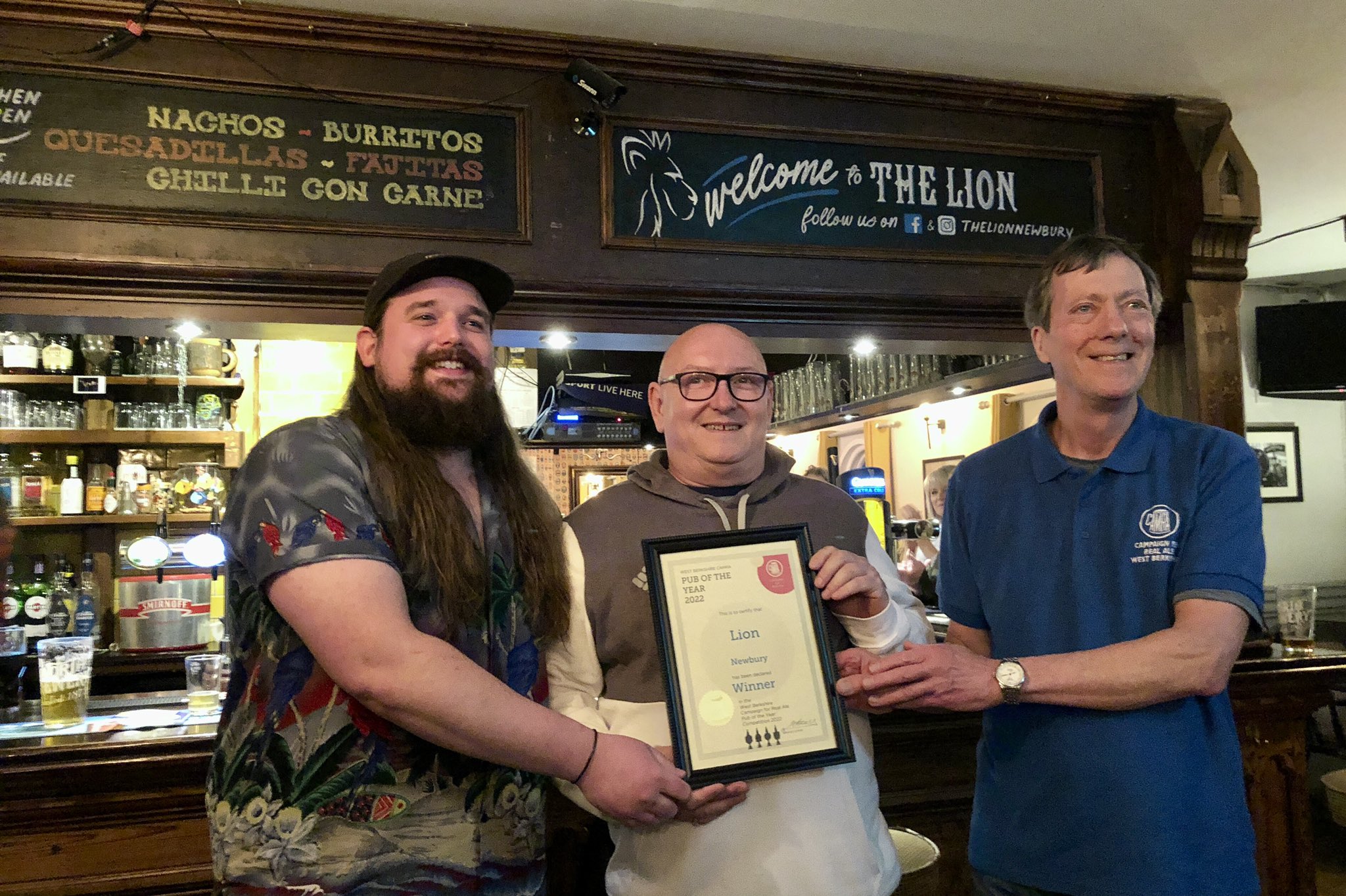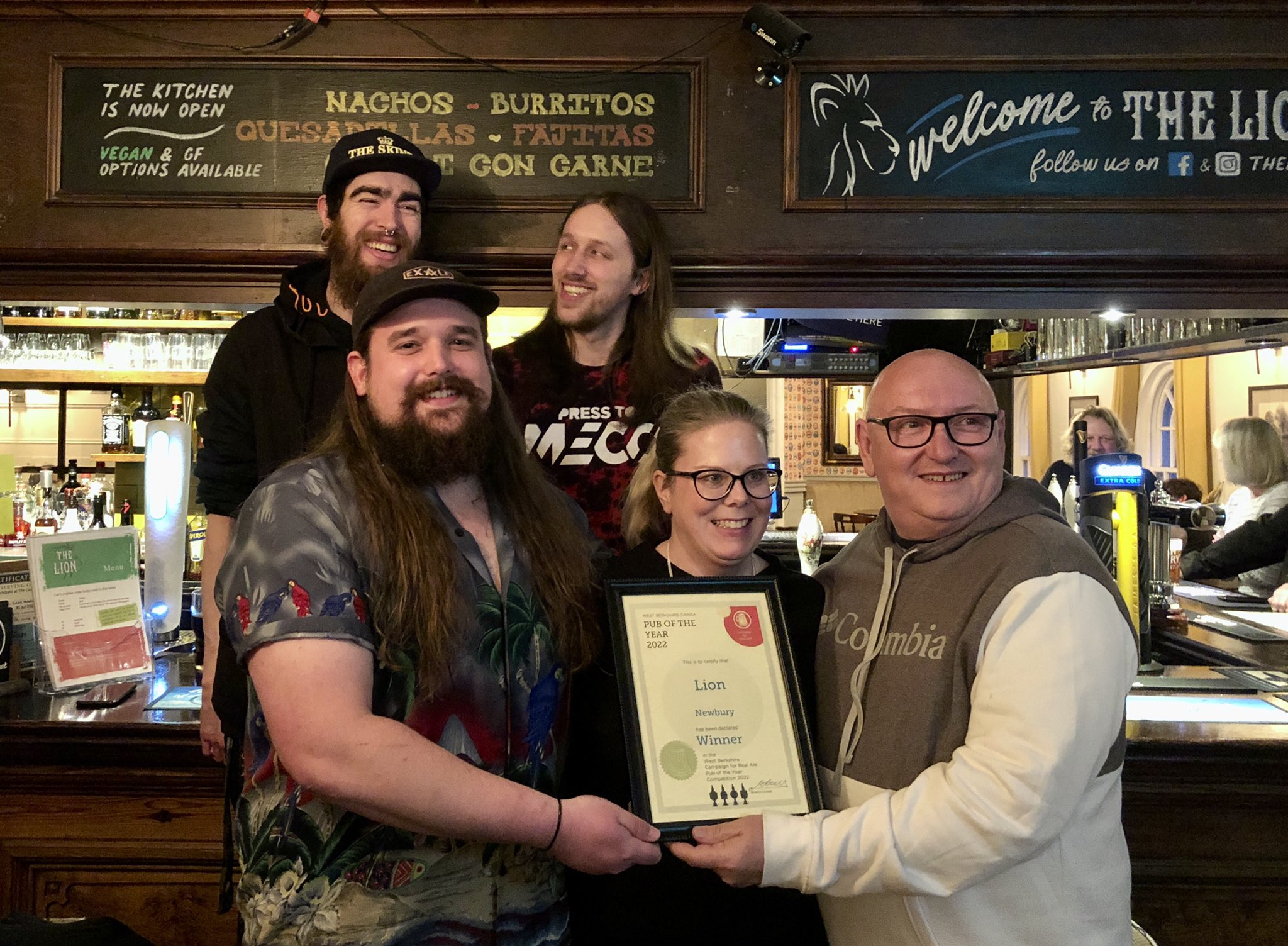 Kevin Archibald has lived in the Newbury area since the age of 11. After Park House school he joined Plenty as an apprentice engineer. After some years, Kevin moved into the taxi business before finding his niche in managing pubs in Newbury.
Under his cellarmanship, the King Charles Tavern, gained its first entry in CAMRA's Good Beer Guide (2015). The KC went on to win West Berkshire CAMRA's Pub of the Year (POTY) award in 2016 with Joshua Khan as its new landlord.
Kevin moved to the Catherine Wheel as General Manager after Warwick Heskins became its new landlord. The pub first won the Branch Cider POTY award in 2015 and the Branch POTY award in 2018. After Kevin moved on to become landlord of the Lion, it appeared in the Good Beer Guide (2022).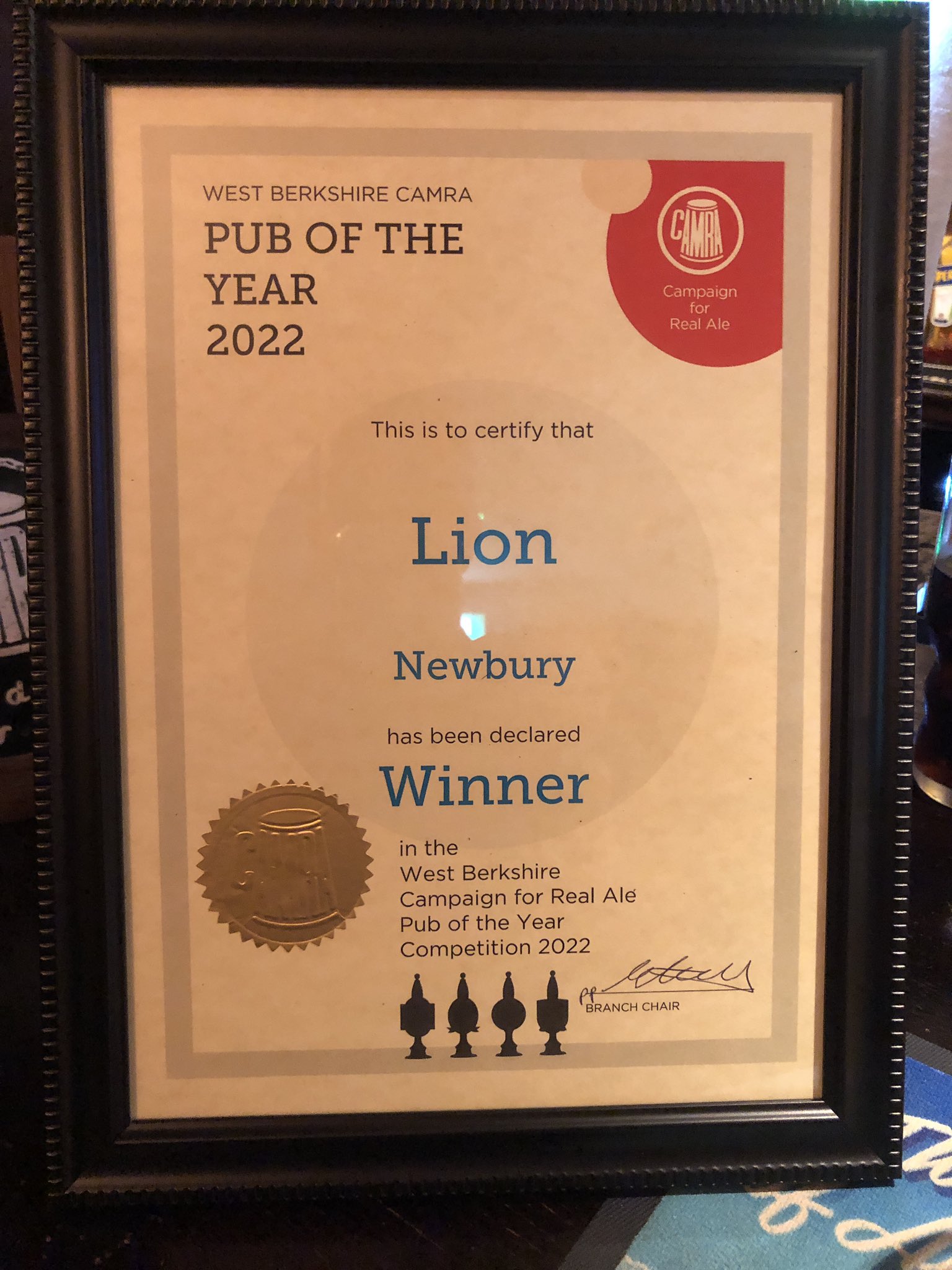 On Tuesday 12 April 2022, Mike Avery, Secretary of West Berkshire CAMRA presented Kevin and Sam with the award saying that since they took over The Lion in 2019 it has become a real ale destination pub renowned for its range and quality of ales.
Kevin said 'We are so proud to have got the 2022 Pub of the Year award. Our initial aim was to get into the Good Beer Guide and this is now the icing on the cake.'
He added 'This has been a team effort involving Sam, Julia, Kieran, Sanna, Joe and Jak. We have trained Sanna, Kieran and Joe in the cellarmanship and bar skills needed to ensure that beer is served at its best.'