After previously winning the award in 2015, 2017, 2018 & 2019 the Catherine Wheel, Newbury was awarded West Berkshire CAMRA Cider Pub of the Year 2022.

Landlord Warwick Heskins said he was proud that the Catherine Wheel was one of the few pubs in the area able to offer a variety of local ciders. Recently the range of local ciders has reduced as Pang Valley Cider, Greenham Fallout Cider and Crazy Dave's Cider have all ceased production. He invited local cider producers to get in touch if they would like the Catherine Wheel to stock their cider or perry.
Locally produced ciders including Polecat Cider, Green Shed Cider and Tutts Clump Cider remain available with draught ciders kept cool in the cellar and bottles chilled in a tall glass-fronted fridge beside the bar, near the main entrance. A large blackboard, next to the fridge, lists all the draught ciders stocked.
Two Wheels cider is blended especially for the Catherine Wheel and it's linked bar, the Spare Wheel on the Market Place, by Green Shed Cider of Newbury. The cider is produced from a blend of locally produced culinary apples and two bittersweet cider apples – Vilberie from Herefordshire and Prince William from Gloucestershire. Two Wheels is available from the bottle at the Catherine Wheel and on draught, from KeyKeg, at the Spare Wheel.
Aspall Draught Cyder and Orchard Pig Reveller Cider are also available from a font on the bar.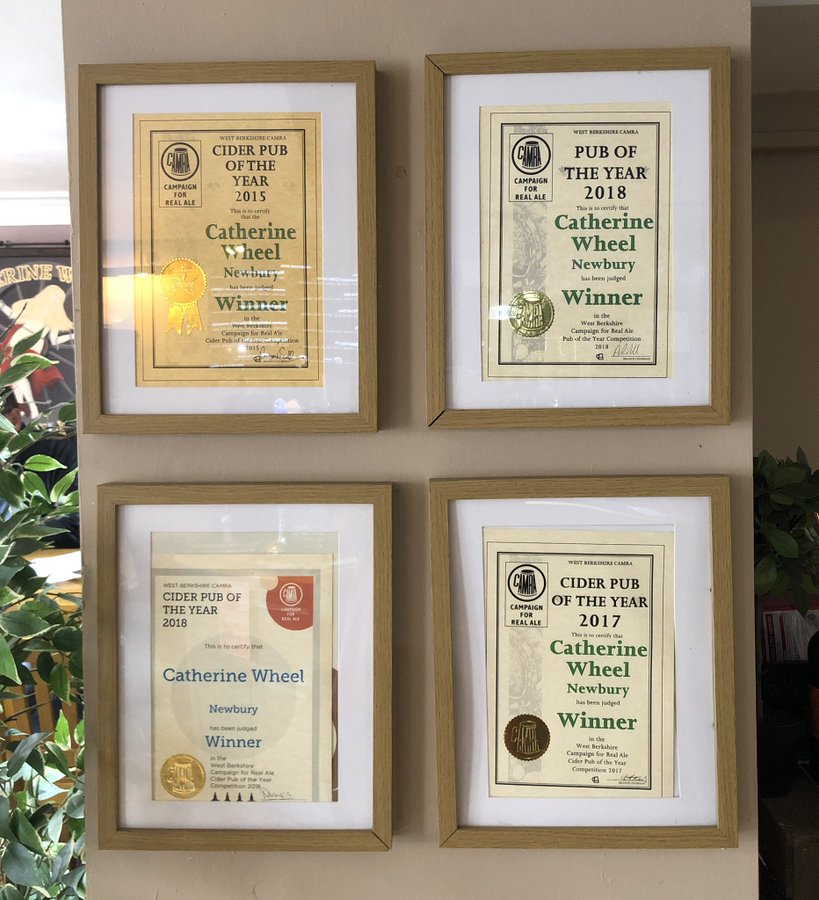 The Catherine Wheel is open daily. The menu is mainly based on Pieminister pies including Mooless Moo, a vegetarian, gluten-free pie which won Supreme Champion of 2022 at the British Pie Awards in Melton Mowbray.